Download CTC-Pak Membership Form [ENG]


Download CTC-Pak Membership Form [URDU]
WORLD NO TOBACCO DAY (WNTD)
(2014)
This year marks the 26th World No Tobacco Day (WNTD) on May 31st, 2014 and this year's theme is "Raise Taxes on Tobacco".

Like previous 4 years, this year as well, around 60 members of Coalition for Tobacco Control in 43 cities of Pakistan joined hands together on the occasion of World No Tobacco Day to demand for an effective raise in tobacco taxes and to strictly enforce tobacco control laws on all forms of smoking and smokeless tobacco. People from different walks of life including local government officials, law enforcement authorities, parliamentarians, health & education government departments, media, lawyers, civil society organizations, youth and community will be participating in more the 96 activities organized in all four provinces of the country to celebrate the World No Tobacco Day.

The objective of these activities are focused on:
Demand for government to increase taxes on "smoking" tobacco products.
Demand for government to introduce taxes on "smoke-less" tobacco products.
Refuse to treat tobacco industry as stakeholders in public health issues in any capacity or accepting the industry's so called corporate social responsibility schemes.
A complete list of CTC members and their activities in the respective areas is attached below for your information.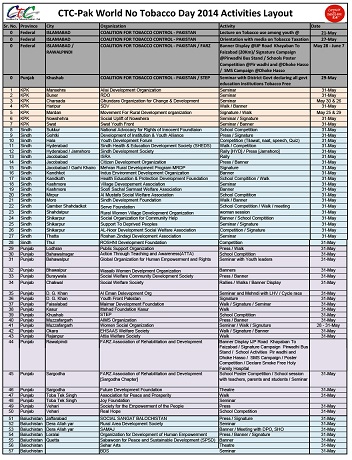 For more information, kindly contact CTC-Pak.
This site is dedicated in favor of saving millions of preventable and premature deaths.


© 2007 Coalition for Tobacco Control in Pakistan, All Rights Reserved