Download CTC-Pak Membership Form [ENG]


Download CTC-Pak Membership Form [URDU]
Pakistan raises the
Graphic Health Warnings
to
85% from 40%.
Cigarette packs are to carry the new GHW by March 30, 2015.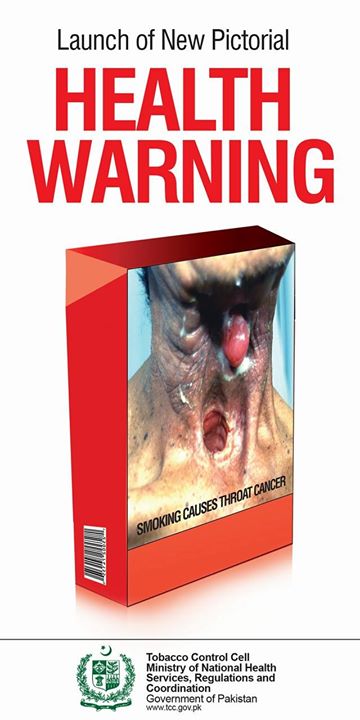 Cigarette packs to cover 85 percent pictorial warning:
Saira Tarar

Wednesday, 11 February 2015 21:26
(Web link: http://www.brecorder.com/top-news/109-world-top-news/223958-cigarette-packs-to-cover-85-percent-pictorial-warning-saira-tarar.html)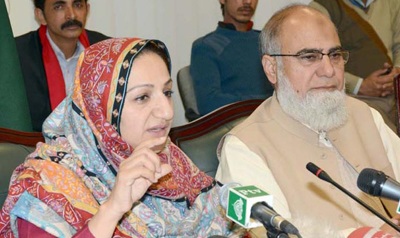 ISLAMABAD: Minister for National Health Services, Regulations and Coordination, Saira Afzal Tarar on Wednesday announced that new pictorial warning will cover 85 percent of cigarette packs on both sides in the country.
Addressing a press conference, the minister said that the tobacco companies would start implementing this decision from March 30 and efforts will be made to apply this decision on all cigarettes stock by May 30 in the country.

She said that the government has also decided to further enhance taxes on tobacco items, adding, a concerned committee has been constituted in this regard with participation from WHO and Federal Board of Revenue aimed at stopping tobacco use.

She said that the ministry will announce national health policy within two months. She also announced that the government will soon announce country's first drugs policy.

She said that Pakistan will be the third country in the world besides Thailand and India to have enhanced pictorial health warning to 85 percent. She added this new large size of pictorial health warning on cigarette packs will encourage smokers to quit smoking.

She said that it is a major stride forward in curbing tobacco use as the size of the warning has also been more than doubled from 40 percent to 85 percent.
She said that the matter of introducing the new enhanced pictorial warning was initiated in 2011. The ministry has started process of consultation with the provinces in 2013 to revive the tobacco control programme and strengthen it.
She said that Pakistan has fulfilled it obligation under Article 11 of the Frame Work convention of Tobacco control and become a world leader for the other countries to follow.

The minister said that tobacco use is a major cause of deaths world-wide and in Pakistan. The world has seen 100 million deaths in the 20th century from tobacco related causes. In Pakistan 100,000 people lose their lives every year from tobacco related diseases, she added.
Pictorial warning on tobacco packs is the most effective means of communication with tobacco users as according to research, a smoker looks at this picture at an average of 7,000 times in a year.
Moreover, those who intend to initiate smoking are discouraged by the warning where as it encourages those to intend to quit smoking. she added.
Under the new measure, cigarette manufactured in the country, sale in the country and imported into the country will be required to have the new pictorial warning on their packs mandatory by March 30, 2015.
The minister added that any manufactures, importer, distributer or retailer who will violate the new law will be dealt according to law. She expressed the hope that all shareholders including the provincial governments will ensure full implementation of the new measure.

---------------------------------------------------------------------------\

Bangladesh worse than Pakistan in tobacco control
Nurul Islam Hasib,
bdnews24.com, Published: 2015-02-11 23:46:34.0
(Weblink: http://bdnews24.com/health/2015/02/11/bangladesh-worse-than-pakistan-in-tobacco-control)|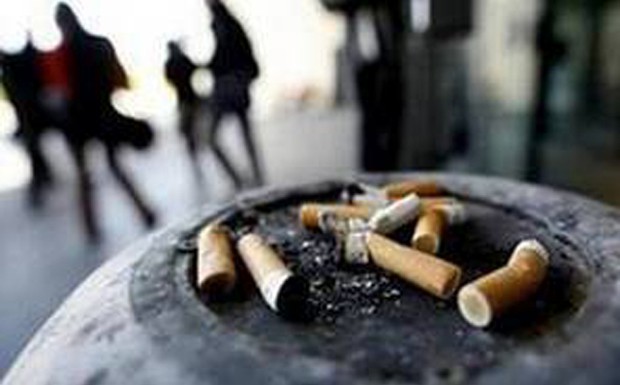 Pakistan has set an example for Bangladesh and many other countries to follow in public health with an announcement that it will implement a new pictorial health warning on tobacco packs next month. Bangladesh slips in tobacco-control rating
Authorities in Bangladesh have been struggling for the past 22 months to introduce a similar warning. Pakistan's health ministry on Wednesday said their warning would cover 85 percent of the cigarette pack on both sides from the current 40 percent. The measure will make Pakistan only the third country in the world after Nepal and India to have enhanced pictorial health warning to 85 percent.
"If Pakistan can, why can't we?" asked Taifur Rahman, Bangladesh coordinator of the US-based Campaign for Tobacco Free Kids. He was one of the members of the committee that drafted the tobacco control law and its implementation rules. The amended law was passed nearly two years ago in April 2013 with a provision that tobacco companies must print pictorial health warning covering 50 percent on both sides.
Pictorial warning on tobacco packs is regarded as the most effective means of communication with tobacco users. Researches show a smoker looks at this picture at an average of 7,000 times a year. Moreover, those who intend to start smoking are discouraged by the warning while it encourages many to quit the habit.
But Bangladesh, a country where more than 45 percent people smoke, could not put the provision into practice as the rules needed for implementation have not been finalised yet. The law ministry took months to complete their vetting and recently sent those back to the health ministry which is known by the anti-tobacco campaigners as "a heaven" for tobacco industry lobbyists.
Tobacco multinationals dared to meet Health and Family Welfare Minister Mohammed Nasim even as the WHO's convention, which Bangladesh has signed and ratified, does not allow such meeting.
The former health secretary MM Neazuddin also held meeting with them.The minister later in August last year at a press briefing said being a public representative, he can meet anyone. "But I'll act according to law".
Lately, tobacco companies have appointed packaging firms to convince the health ministry that to print such pictorial warning, they need sophisticated machines to import.
After meeting the tobacco lobbyists and packaging companies, the health ministry set a 10-month deadline from the day of issuing the rules to implement the pictorial health warning. It, however, still remained unclear when the rules will be finalised.
"We are in the worst situation," CTFK Coordinator Rahman told bdnews24.com. "Pakistan has showed how quickly pictorial health warning can be implemented. It is frustrating that we are still struggling," he said. "In the initial draft we kept six months for implementation of the pictorial health warning from the day of issuing rules. But it was changed after the meeting with the packaging companies."
"They presented a vague excuse that they don't have such machines that print pictorial warning," Rahman said. "It is like any other printing work and everywhere in the world tobacco industries made the same excuse when a country talked about pictorial health warning. Finally they (industry) had to concede," he said.
Tobacco use is a major cause of deaths in Bangladesh and other parts of the world. WHO estimates 57,000 people die of tobacco-related illnesses each year in Bangladesh, while more than 300,000 suffer disabilities every year. Introducing pictorial health warning is also an obligation for a country like Bangladesh that singed WHO convention, FCTC, on tobacco control
® 2007 Coalition for Tobacco Control in Pakistan, All Rights Reserved